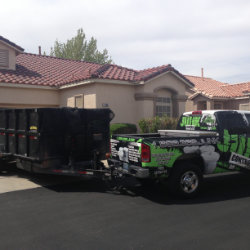 The Las Vegas valley has a number of small towns and communities. Summerlin hosts thousands of Las Vegas residents. Because of the location, many residents of Summerlin are overcharged for basic services. Junk removal is a service that many companies constantly overcharge for.

In today's article, we will talk about the special challenges of junk removal in Summerlin. We will also talk about the best company to provide the service for the area.

Junk Removal In Summerlin
Junk removal in Summerlin is often more expensive than other parts of Las Vegas. Many companies try to charge their customers costly fees. One of our customers complained that another company charged her for their vehicle fuel. A lot of neighborhoods in Summerlin are gated communities or have strict HOA's. These associations only allow professional junk removal companies to remove in their neighborhood. For a Summerlin resident, those restrictions limit your options.

When you get junk removal in Summerlin, there is only one option that makes everyone happy. You need a company that can meet association standards while keeping you in budget. Luckily, one company in Las Vegas provides junk removal service that makes everyone happy.

Junk Control
Junk Control has been providing junk removal in Summerlin for almost fifteen years. We have been loyally providing service to the entire valley since we have been in business. Unlike other companies, we don't charge you extra fees because of your location. Junk removal is a service that everyone needs. And we believe it should be available to all of our neighbors at an affordable price.

Getting a quote is incredibly easy. You can call us or text a photo to 702-202-6206 to get a quick estimate. We offer same or next day service so that you can get your junk removed quickly. As a family owned and operated business, we understand your specific needs. Call us today!