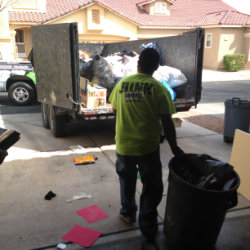 How Is Junk Removal Cost Calculated?
Junk removal cost is calculated based on a number of different factors. We charge based on cubic yardage. The more stuff junk you're removing, the higher the cost. As more junk is being removed we start to charge less per cubic yard. Other factors are considered as well. The weight, quantity, and location of the items being removed are all considered in your junk removal cost. Below you will find our junk removal prices. Your junk removal cost could be anywhere between these ranges.
What Am I Paying For?
Junk removal cost covers three main things. The first thing your price covers is labor. Our drivers have to come and load your debris into our trailer. The second part your price covers is the dump fee. This usually goes unnoticed for a number of reasons. Most people aren't in the junk removal business. Plus, out of sight means out of mind. The heavier the material, the more the dump fee. Your junk removal cost has a direct relation to how much you're throwing away.
What's Your Minimum To Come Out?
We have a $65 minimum to come out and remove junk. Our minimum covers roughly one cubic yard of space in our trailer. And as mentioned earlier, the fee to dump your items. One cubic yard of space is roughly the size of a dishwasher. We pride ourselves on having the lowest prices in Las Vegas. Junk Control prices are constantly being evaluated with our competitors in the industry to ensure you consistently get the lowest prices. Junk removal is a dynamic business in the city of Las Vegas. Wages, operating costs, and dump fees constantly change. Take comfort in knowing you are working with professionals dedicated to providing the best service, at the lowest prices.
How Can I Get A Quote?
We have different options for getting you a quote. The best way to find out how much your removal will be is to text us a photo. If we have a photo we can give you an accurate quote based on the size of your load. Other options include an accurate description of your items and exact measurements of the items you are throwing away. We offer flat rates for single items like refrigerators and mattresses. Contact us to find out how much junk removal cost you'll be looking at.