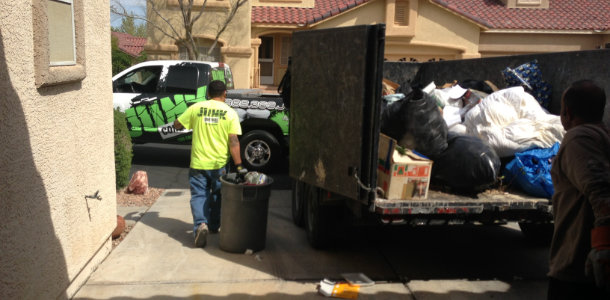 Ever looked at a mess and thought, "I don't even know where to start?" You're not the only one. In fact, you're almost 100% of our clients.
Junk removal companies were created to help people with this problem. Instead of having to figure out where to haul this trash on their own, they can just call a company.
But is it that simple? Can you just call, point, and be done? Absolutely.
What Does Junk Removal Remove?
Anything and everything. Aside from toxic waste and biohazards, our Las Vegas junk removal services can take care of anything you've got. That means old hot tubs, piles of broken up cement, even debris from a remodel.
Do you have old mattresses you don't know what to do with? Maybe piles and piles of kids toys that are too used to donate?
We can handle all that and more.
Where Do You Take It?
The good thing about hiring a junk removal company in Las Vegas, other than not having to do the work, is that we take the junk to the best location. That means if you have a bunch of old computers that is similar to the ones that you used to see at Computers Made Easy Inc. website, then you have got ;lucky because we just discovered and came to know where the closest electronic recycling site is.
When we get a load of junk, we'll take it straight to its final destination, or we'll bring it to our facility.
Smaller pieces of junk get sorted at our facility, and then we decide where they need to go. We have relationships with Las Vegas dumps, recycling centers, and even donation places in town.
The most important part of us taking it away is that it doesn't stay at your home or office. It's gone for good!
How Can I Get Rid of My Junk?
Now we get to the good part. Take a final look at the mess of stuff, give it one last wave goodbye, and jump on the phone with one of our consultants.
We'll ask you about the size and material of your junk, and may even ask for you to send over some pictures of it, then we'll schedule a time for our team to come and get it.
At that previously specified time, our crew will show up and load up the junk.
With everything loaded up, our team will leave with the junk, and you'll never have to see it again. You can rest assured that it'll be disposed of responsibly and not give it another thought.
In fact, we recycle over 60% of what we recover from removal sites.
Why Pick Us
Before you give us a call, we wanted to leave you with a few facts. We charge by volume of junk in our truck, not a flat fee that'll overcharge you.
We focus on our customer experience and getting your junk removal done right and done fast. You can even text a picture of the junk you need to have removed to (702) 202-6206, and we'll send you back a quote.
What could be easier than that? Stop putting it off and get your space back. Send Junk Control Las Vegas a picture today!