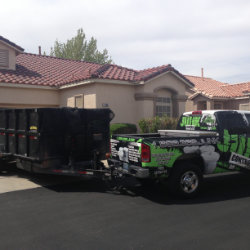 Thousands of Las Vegas residents have hot tubs. Just like other things in our house, hot tubs start to show natural wear and tear. Many items in our homes qualify for junk removal, but hot tubs pose a specific challenge to Las Vegas residents.

In today's article, we will talk about the cost of hot tub junk removal. We will also talk about the qualities to look for when hiring a company for hot tub junk removal.

Hot Tub Junk Removal
Many of the companies in Las Vegas overcharge for hot tub junk removal. Many businesses will overcomplicate the job and do more work than necessary. All of this is done in an effort to charge you more money. There are two main methods for removing a hot tub. The most cost effective way is to remove the tub in one piece. The other method costs more but is sometimes necessary. That method involves cutting it up so it can be carried out in smaller pieces.

When giving a quote, many companies fail to recognize there are factors that can make the job more affordable for the customer. So when you search for a company to provide junk removal you need to look for three specific qualities. A good junk removal company will be affordable, professional, and convenient.

Junk Control
Junk Control has been loyally serving the Las Vegas community for over a decade. We proudly provide junk removal at an affordable rate. We constantly evaluate our competitors to make sure we always give the lowest prices. To make you feel secure with our services, we are fully insured and licensed. We conveniently offer same or next day service at a time that works for your schedule.

Getting a quote is fast and easy. You can call us and speak to one of our professionals. You can also text us a photo or description of your items to 702-202-6206. Call us today to get a spot on our calendar.