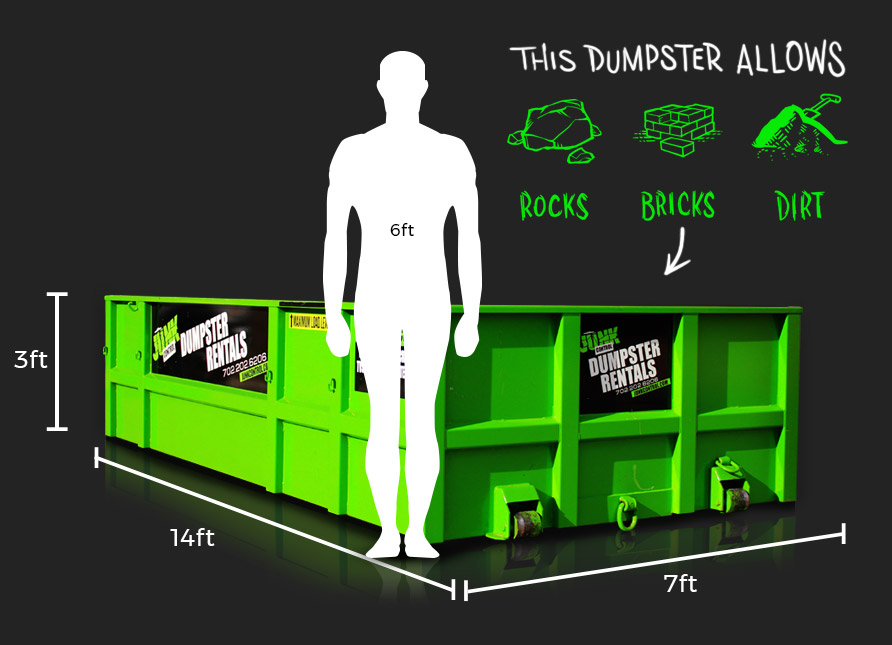 Dirt is common debris found in construction, demolition, and landscaping projects. This type of debris can weigh several tons. Dumpster businesses do not want that kind of liability. The companies that take on this liability overcharge for a dirt dumpster. Disposing of excessive amounts of dirt, rock, and concrete is difficult.
In this article, we will talk about dirt dumpster. Junk Control has the most affordable dumpster designed to handle heavy material.
Dirt Dumpster
The lowboy dumpster rental is designed to handle heavy construction debris. Dirt, rock, and concrete are all acceptable materials. This special dumpster can also handle bricks and other earthen material. Junk Control has maintained the lowest prices in Las Vegas for a number of years. Our new website allows you to order a dumpster online. This process is quick and only takes minutes to complete. We offer five different sizes of dumpster rentals. Our containers are painted a bright green to make them safe for work any time of day. Other dumpster companies charge hidden fees. One of those hidden fees is for vehicle mileage. Junk Control provides the same low prices to Las Vegas, Henderson, and North Las Vegas. We do not charge you differently based on where you live in the valley.
Dirt removal can be a difficult process. Dumpster rentals are the most affordable, convenient, and professional method for removing dirt. These containers are designed to be loaded with heavy material. They have a wide door that makes them easily accessible for loading.
Junk Control
Junk Control has provided dumpster rentals to the Las Vegas community for almost fifteen years. We pride ourselves in providing professional and affordable service. Call or text us today at 702-202-6206. We appreciate all feedback on Google and Yelp. Look at our reviews and you will find many of our satisfied customers. Almost all of our customers recommend us to friends and family.