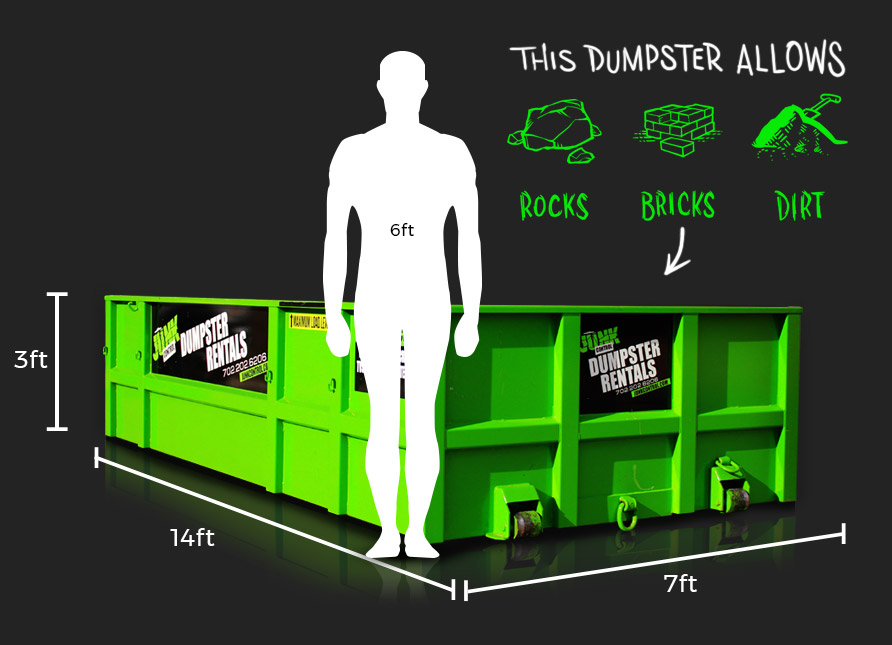 The lowboy dumpster rental is designed to carry heavy material. Bricks, dirt, rock, and concrete are all acceptable in this container. Companies view these containers as a liability. This fact causes the price of these containers to be expensive. Hundreds of Las Vegas residents overpay for this dumpster rental.
In today's article, we will talk about the lowboy dumpster rental. Junk Control offers the most affordable lowboy dumpster in Las Vegas.
Lowboy Dumpster Rental
Junk Control charges three hundred and twenty-five dollars for the lowboy dumpster rental. We are able to offer a low price on this container because of the material we allow them to be used for. Dirt, rock, and concrete are the most common materials for this container. Junk Control accepts any earthen material in this dumpster. That means that bricks, tile, pavers, and other earthen materials can be loaded into this container. We do not allow any plants, trash, or other mixed debris into the lowboy dumpster. This allows us to keep the cost of our container affordable for everyone. Junk Control takes on that liability so that the customer does not have to overpay for a basic service.
We proudly service Las Vegas, North Las Vegas, and Henderson with the same low prices. Our competitors are known for charging fees based on where you live in the valley. Call or text 702-202-6206 to place your order. You will receive same-day service if you order before 3 PM. A dumpster order can also be placed on our website online.
Junk Control Dumpsters
Junk Control has provided dumpster rentals to the Las Vegas community for almost fifteen years. We pride ourselves in providing professional and affordable service. Call or text us today at 702-202-6206. We appreciate all feedback on Google and Yelp. Look at our reviews and you will find many of our satisfied customers. Almost all of our customers recommend us to friends and family.